De betaaldienst Apple Pay lijkt deze week te beginnen. Dit wordt veroorzaakt door de cursus waar de Apple medewerkers heen gestuurd zijn. Daarnaast bereiden meerdere winkels zich voor op de lancering. De website 9to5mac heeft trainingsmaterialen in handen gekregen over Apple Pay. Een andere website meld dat de drogisterij keten Walgreens van plan is om 18 oktober te beginnen met Apple pay. Hierbij moet wel gezegd worden dat Apple nog geen officiële lanceer datum bekend heeft gemaakt.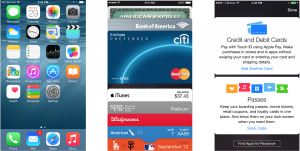 Wat is Apple Pay
Apple Pay zal het mogelijk maken om creditcardinformatie in een iPhone 6 of 6 Plus op te slaan, om het toestel vervolgens voor betalingen te gebruiken. De vingerafdrukscanner verifieert dat de eigenaar van het toestel de betaling doet. Voor de betaaldienst verschijnt een nieuwe sectie in de instellingen-app van iOS 8. Creditcards kunnen handmatig worden ingevoerd, of kunnen worden gefotografeerd met de camera van de iPhone.
Ook buiten de VS?
Het is nog onduidelijk of en wanneer Apple Pay ook buiten de VS zal verschijnen. In Europa zijn creditcard-betalingen een stuk minder gebruikelijk en wordt door banken al veel gewerkt aan contactloos betalen via de pinpas. Donderdag houdt Apple een evenement waarop de aankondiging van nieuwe iPads wordt verwacht. Vermoedelijk zal daar ook een update worden gegeven over de uitrol van Apple Pay.