Hoewel Windows 8 gemaakt is om te bedienen met je hand en of alleen met een muis werkt dit nog niet helemaal optimaal. Veel handelingen zijn makkelijker te doen met een toetsencombinatie. Een aantal toetsencombinaties uit Windows XP, Vista of Windows 7 werkt nog. Maar er zijn ook nieuwe bij gekomen.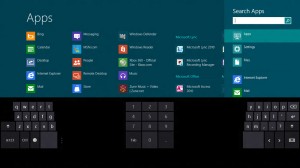 Alle combinaties op een rij:
WinToets + X Een verkleind startmenu op de desktop of in Modern UI tonen.
WinToets + C Charmsbar openen: snelmenu naar meest gebruikte Windows-taken.
WinToets + F Het zoekvenster openen.
WinToets + B Focus op het laatst gebruikte programma op het bureaublad.
WinToets + D Het Windows-bureaublad weergeven.
WinToets + Tab Schakelen tussen openstaande applicaties via linker menubalk.
WinToets + L Windows-scherm blokkeren.
WinToets + M Alle vensters minimaliseren.
WinToets + H Opent het delenvenster.
WinToets + plusteken Inzoomen op Windows-scherm via vergrootglas.
WinToets + minteken Uitzoomen op Windows-scherm via vergrootglas.
WinToets + Pause/Break Computerinformatie tonen.
WinToets + Alt + Enter Windows Media Center openen.