Veel mensen hebben inmiddels geupdate naar Windows 10 via Windows Update. Maar we horen ook veel mensen op het internet dat ze niet tevreden zijn met Windows 10. Wil jij ook je Windows 10 update terugdraaien? Dan is dit artikel echt iets voor jou. Hieronder zullen we in een paar kleine stappen uitleggen hoe je de Windows 10 update terugdraait. Na het terugdraaien heb je gewoon weer de vertrouwde Windows 7 of Windows 8.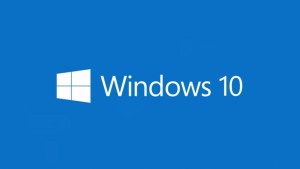 Voordat je begint met de Windows 10 update terugdraaien moet je wel rekening houden met het volgende. Windows 10 is het nieuwste besturingssysteem van Microsoft, hiermee is Windows 10 ook voorlopig het veiligste besturingssysteem van Windows. Op de langere termijn zal de ondersteuning van Windows 7 en Windows 8 ook gaan stoppen en zal je toch nog moeten overstappen naar Windows 10. De Windows 10 update terugdraaien kan alleen als je daadwerkelijk hem hebt geïnstalleerd als update van Windows 7 of Windows 8. Heb je een schone installatie gedaan, of ge-update vanaf Windows Vista dan is terugdraaien niet mogelijk.
Windows 10 update terugdraaien
Heb je het bovenstaande gelezen en wil je echt gaan terugdraaien? Lees dan verder.
Herstart Windows 10 om zeker te weten dat er geen programma's op de achtergrond draaien
Ga naar Configuratiescherm
Ga naar Bijwerken en Beveiliging (Rechts onderin het startscherm van de instellingen)
Ga naar de optie systeemherstel
Bij de optie "Teruggaan naar een vorige versie" kies je de optie Aan de slag
Hier krijg je een tekst venster waarbij Microsoft je voor een reden vraagt waarom je terug wilt, deze mag je leeg laten
Windows begint nu met het verwijderen van Windows 10. Dit kan afhankelijk van de computer 10 minuten tot 2 uur duren.
De computer zal herstart moeten worden.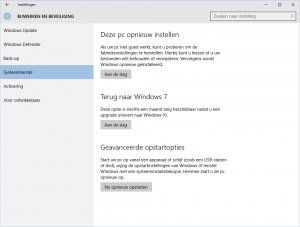 Maar Microsft zou Microsoft niet zijn als alles niet soms niet werkt. Wij hebben het bovenstaande 10 keer getest, van de 10 keer werkte het echter maar 9 keer. Bij de 10e keer kwam na het herstarten gewoon weer Windows 10 naar voren. Toen we toen nog een keer begonnen met de Windows 10 terugdraaien opties krijgen we wel onze Windows 7 terug.
Lees hier onze andere artikelen over Windows 10. Heb jij tips of trucs? Laat een reactie achter!