Microsoft heeft een extreem goedkope smartphone onthuld. Het gaat om de Nokia 215 die volgens planning vanaf dit jaar te koop is voor omgerekend 25 euro. Microsoft hoopt met deze telefoon onder meer het marktaandeel in Azië, het Midden-oosten en Afrika te vergroten, schrijft The Independent.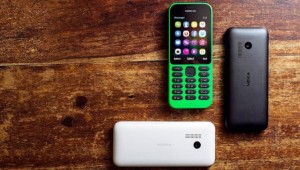 Het simpele mobieltje met een 2,4-inch scherm en een resolutie van 320×240 pixels ondersteunt apps als Facebook, Twitter, Facebook Messenger en Opera Mini Browser. Het toestel ondersteunt geen 3G, maar wel 2G.
Verder beschikt het toestel over een camera met 0,3 megapixel. Het toestel gaat 29 dagen in de stand by-stand of 20 beluren mee zonder op te laden. Of Nederland ook bij de eerste landen hoort waar het toestel wordt gelanceerd, is nog niet bekend.