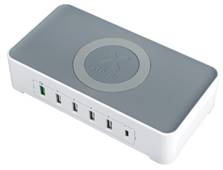 Xtorm, fabrikant van mobiele laadoplossingen, lanceert de Xtorm Vigor Power Hub waarmee zeven apparaten tegelijk opgeladen kunnen worden door gebruik te maken van slechts één stopcontact.
Vigor Power Hub
De universele Xtorm Vigor Power Hub biedt dé perfecte oplossing om thuis of op werk meerdere mobiele apparaten veilig op één plek op te laden via het stopcontact. De ingebouwde Smart IC chip herkent welke apparaten aangesloten zijn en verdeelt de stroom automatisch op de meest optimale manier, dit verhoogt efficiëntie en duurzaamheid van het laadproces.
De Vigor Power Hub biedt een unieke combinatie van verschillende laad-opties. Zo is het mogelijk om draadloos mobiele apparaten op te laden. Daarnaast kunnen via de USB-C poort de nieuwste MacBooks en laptops opgeladen worden. Bovendien laadt de Vigor mobiele apparaten tot 60% sneller op dan via een stopcontact dankzij de USB poort met Quick Charge 3.0 techniek.
De Xtorm Vigor Power Hub is ruimtebesparend en zorgt voor een opgeruimd bureau, thuis of op kantoor. Het is de ideale laadoplossing voor het efficiënt opladen van zeven mobiele apparaten, zonder dat hier meerdere stopcontacten voor nodig zijn.
Prijs en beschikbaarheid
De advies verkoopprijs van de XPD16 Xtorm Vigor Power Hub is €69 incl. btw. De Vigor Power Hub is beschikbaar bij diverse (online) winkels en op Xtorm.eu. Xtorm biedt op al haar producten twee jaar garantie en ongelimiteerde helpdeskondersteuning.