Een interactief stripboek, geïnspireerd op Valiant Hearts: The Great War, is vanaf 6 november gratis te downloaden voor wie de game op iPhone, iPod of iPad heeft gekocht.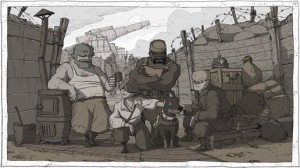 Het stripboek vertelt het verhaal van Walt – de hond uit Valiant Hearts: The Great War – en zijn zus. In dit heroïsch verhaal worden beide honden door een doolhof van loopgraven gestuurd, dwars door het Westelijk Front, op een onzelfzuchtige missie om belangrijke berichten te bezorgen en gewonde soldaten te helpen. De intuïtieve besturing, geanimeerde strippanelen, muziek en geluidseffecten brengen het stripboek tot leven en maken het een unieke leeservaring.
Over Valiant Hearts: The Great War
Valiant Hearts: The Great War is ontwikkeld door een klein team van Ubisoft Montpellier, bekend geprezen titels als Beyond Good & Evil®, Rayman Origins® en Rayman® Legends. Het team gebruikt UbiArt Framework om op gemakkelijke en efficiënte wijze de comic-book stijl van de game te animeren. Die bestaat uit een breed kleurenpallet, variërend van donkere loopgraven tot groene bossen en besneeuwde velden, wat zorgt voor een schilderachtige variatie en visueel contrast. Ubisofts UbiArt Framework is een krachtige engine die programmeurs en artiesten toelaat hun kunst tot leven te brengen. De engine biedt de mogelijkheid om het originele concept onaangepast in de gamewereld te plaatsen.
Voor meer informatie over Valiant Hearts: The Great War, ga naar: