Synology lanceert vandaag de DiskStation DS216+, een zeer krachtige 2-bay NAS-server voor consumenten en kleine kantooromgevingen. De DS216+ is bestemd voor gebruikers die een veilige en efficiënte oplossing zoeken voor het opslaan en delen van hun gegevens én voor dynamische videotranscoding.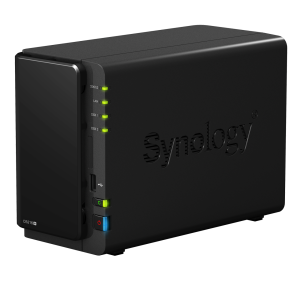 "Met een krachtige NAS-oplossing in huis kunnen kleine kantoren op hoge snelheid data delen, applicaties draaien en online samenwerken", zegt Jones Tsai, hardware design director bij Synology. "Thuisgebruikers kunnen bovendien video van hoge kwaliteit transcoderen en naar diverse apparaten streamen. Dit is precies waar de DS216+ voor is ontwikkeld en we hebben er weer alles aan gedaan om aan de hoge eisen van onze gebruikers te voldoen."
Dankzij de Intel Celeron processor N3050 met Intel AES-NI-encryptie (AES New Instructions) gaat de DS216+ zeer snel te werk, met lees- en schrijfsnelheden van meer dan 111 MB/s. Bij versleutelde gegevens liggen lees- en schrijfsnelheden op respectievelijk ruim 113 MB/s en 109 MB/s.  Bovendien kan de DS216+ zonder tussenkomst van extra hardware video transcoderen van H.264 4K naar 1080p, zodat liefhebbers van HD-kwaliteit altijd hun multimediabestanden kunnen streamen, ongeacht beperkingen in bandbreedte of de capaciteit van het apparaat waarop de video wordt bekeken.
"Consumenten en kleinzakelijke gebruikers zijn op zoek naar hogere prestaties, meer veiligheid en meer intelligentie in hun opslagsystemen. Met de Intel Celeron N3050 processor en Intel AES-NI encryptie, voorziet de Synology DS216+ in die behoeften. Gezamenlijk bieden Intel en Synology klanten meer efficiency en een hoger rendement", zegt Andrea Nelson, Director of Storage Marketing, Storage Group, Intel.
Implementatie van het Btrfs-bestandssysteem zorgt ervoor dat de DS216+ geavanceerde databeveiliging kan bieden met  point-in-time snapshot & restore, geïntegreerde data-integriteitscontrole, metadata-mirroring en quotabeheer voor gedeelde mappen (bovenop de bestaande quota voor gebruikersaccounts). De DS216+ is uitgerust met hot-swappable schijfladen waarvoor geen gereedschap nodig is en het design voorziet in handige LED-bediening aan de voorzijde, waarmee de helderheid van de LED's kan worden aangepast.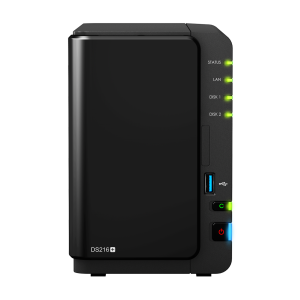 De DS216+ draait op DiskStation Manager (DSM), het geavanceerde en intuïtieve besturingssysteem voor NAS-apparaten. Met toepassingen zoals back-up en netwerkbeheer biedt de DS216+ alle essentiële zakelijke diensten en draagt zo bij aan een hogere productiviteit.