Redundant heeft in de IT een belangrijke betekenis. Helaas is het echter zo dat het in de volksmond vaak "overbodig" of "meer kosten dan noodzakelijk" genoemd wordt. Dit geeft een negatieve invloed aan dit woord waar het juist positief hoort te zijn.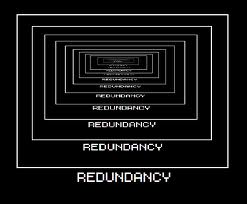 Redundant is het dubbel uitvoeren van belangrijke processen. Denk hierbij aan het gebruiken van 2 switches voor dezelfde functie, of het plaatsen van twee routers. Hiermee zorg je ervoor dat op het moment dat iets uitvalt een back-up systeem dit automatisch overneemt. Niemand zal dus iets merken van de problemen.
Het feit dat je producten twee keer moet aanschaffen en dat je onderhoud ingewikkelder word maakt redundancy iets duurder. Maar op het moment dat een callcenter ineens twee dagen zonder telefoon zit kost dit waarschijnlijk veel meer. Het is dus altijd afwegen hoe je de infrastructuur opbouwt.
Vind je redundancy nog steeds onbelangrijk? Kijk eens naar het volgende voorbeeld. Indien daar niet dubbele systemen hadden gewerkt dan was er echt een probleem geweest:
Op 24 januari 1961 vloog een B-52 bommenwerper boven Carolina. Door een technische storing liet het vliegtuig een atoombom vallen. Drie van de vier switches in de bom bleken niet de werken en pas de vierde switch zorgde ervoor dat de bom gedeactiveerd was. Niemand wil weten wat er was gebeurd op het moment dat er geen redundancy was gebruikt.