Vandaag introduceert Nokia, op Microsofts Build 2014, drie Lumia-smartphones uitgerust met Windows Phone 8.1 en diverse exclusieve Nokia-opties. Windows Phone 8.1 is vanaf deze zomer ook beschikbaar via een 'over the air'-update voor alle huidige Lumia-toestellen met Windows Phone 8.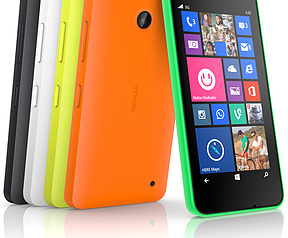 De Nokia Lumia 930 is de ultieme belichaming van Windows Phone 8.1. Het toestel bevat de volgende kenmerken.
Een 20-megapixel PureView-camera met ZEISS-optiek en geavanceerde Rich Recording-mogelijkheden die zorgen voor een naadloze video- en foto-ervaring met nieuwe Living Images-innovaties.
Een schitterend nieuw design dat elegant metaal en kleurige polycarbonaat combineert met een 5-inch ClearBlack-scherm voor ongeëvenaard kijken naar Vyclone, Netflix en Xbox Video – zelfs bij helder daglicht.
Een krachtige 2,2 GHz Snapdragon quad-core-processor die het uiterste haalt uit content als apps, games, internet en geïntegreerde Microsoft-diensten als OneDrive en Microsoft Office.
De Nokia Lumia 930 is vanaf juni 2014 allereerst beschikbaar in Europa, Azië en India voor 599 euro, exclusief btw en subsidies. Exacte prijzen en beschikbaarheid voor de Benelux volgen later.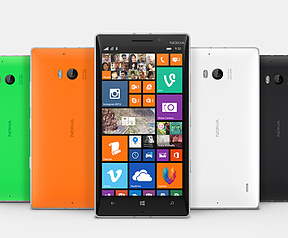 De Nokia Lumia 630 en Nokia Lumia 635 bieden een compromisloze Windows Phone 8.1-ervaring voor een betaalbare prijs. De toestellen zijn uitgerust met de volgende kenmerken.
Een Snapdragon quad-core-processor zorgt voor een snellere sociale ervaring met Word Flow en sociale apps als WhatsApp en WeChat.
Een uniek en kleurrijk design met een cover die je zelf kunt veranderen en een 4,5-inch ClearBlack-scherm voor een geweldige entertainmentervaring met apps en games als Asphalt 8 en Vimeo.
Meer keuze dankzij drie varianten, waaronder de Lumia 630 in 3G single-sim en de eerste Lumia met 3G dual-sim; ook is er de snelle Lumia 635 met 4G/LTE.
De toestellen bieden dezelfde mogelijkheden als high-end Lumia-smartphones, waaronder SensorCore met Bing Health and Fitness, Microsoft Office, Nokia Camera, gratis Nokia MixRadio-streaming en gratis wereldwijde kaarten en navigatie via HERE, die je tijd en geld besparen.
De Nokia Lumia 630 is naar verwachting vanaf mei 2014 als eerste beschikbaar in Azië, India/Midden-Oosten, Zuid-Amerika en Europa. Dit toestel is verkrijgbaar voor 119 euro voor de single-sim-versie en 129 euro voor de dual-sim-versie. De Nokia Lumia 635 is vanaf juli 2014 wereldwijd beschikbaar – ook in de Verenigde Staten – voor een prijs vanaf 149 euro. Alle genoemde prijzen zijn exclusief btw en subsidies. De exacte prijzen, de te voeren varianten en de beschikbaarheid voor de Benelux volgen later.