Doctor Who komt naar Minecraft. Zoals vorige maand al aangekondigd door Microsoft zijn er personages uit de BBC Sci-Fi serie Doctor Who nu beschikbaar in Minecraft: Xbox 360 Edition. Het betreft hier een skin pack met een selectie van een aantal personages uit de 50 jaar geschiedenis van Doctor Who.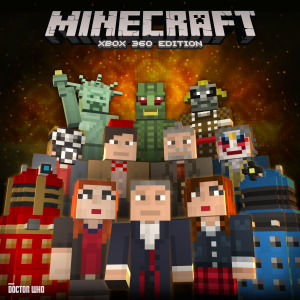 De personages:
Onder meer zijn de volgende personages beschikbaar:
The First Doctor
The Fourth Doctor
The Sixth Doctor
The Ninth Doctor
The Eleventh Doctor
The Twelfth Doctor
The War Doctor
Clara Oswald
Rory Williams
Weeping Angel
Snowman
Smiler
Maar er zijn veel meer personages beschikbaar. Met dit nieuwe skin pack kan je Doctor Who de mooiste avonturen laten beleven in de door je zelf gemaakte wereld. Het skin pack is per direct beschikbaar voor 2.99 dollar of 2.85 euro of 1.99 pound sterling.  Voor de Xbox One gebruikers komt binnen kort een skin pack beschikbaar.