Conical heeft vannacht bekend gemaakt dat er een nieuwe website is gelanceerd. Deze website is community.ubuntu.com. Alle leden van Ubuntu zoals Ubuntu gebruikers, developers, translaters kunnen via deze nieuwe site makkelijk met elkaar communiceren. Het is ook makkelijker voor nieuwkomers om via deze site hulp te vragen.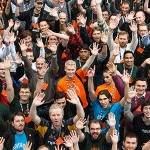 We're very happy to announce that community.ubuntu.com is now online. It is the primary address for interested Ubuntu users to stay involved and get informed about what our community is doing."
Meer informatie over de site is natuurlijk om de site zelf te vinden.